Featuring the SludgeHammer System
Kellermeier Plumbing is your local expert in Septic System maintenance and failure protection. We have the perfect solution to solve the problems you may be having with your Septic System.
SludgeHammer Puts Nature to Work
We combine modern technology with the fundamentals of nature to provide a biological solution to a biological problem. Need an inexpensive system that can fit in a limited space? SludgeHammer installs anywhere—even in existing tanks without damage to the site. And, SludgeHammer's end product is clear water than can be used for irrigation or introduced right back into the water table.
Our simple, but effective systems are environmentally safe and easy to install. A SludgeHammer system can process wastewater at half the cost and energy consumption of our leading competitors and uses only 60 watts of power—literally pennies a day. Our systems are easy to maintain with only a quick, yearly check-up recommended. No moving parts, no landscape damage, no odors.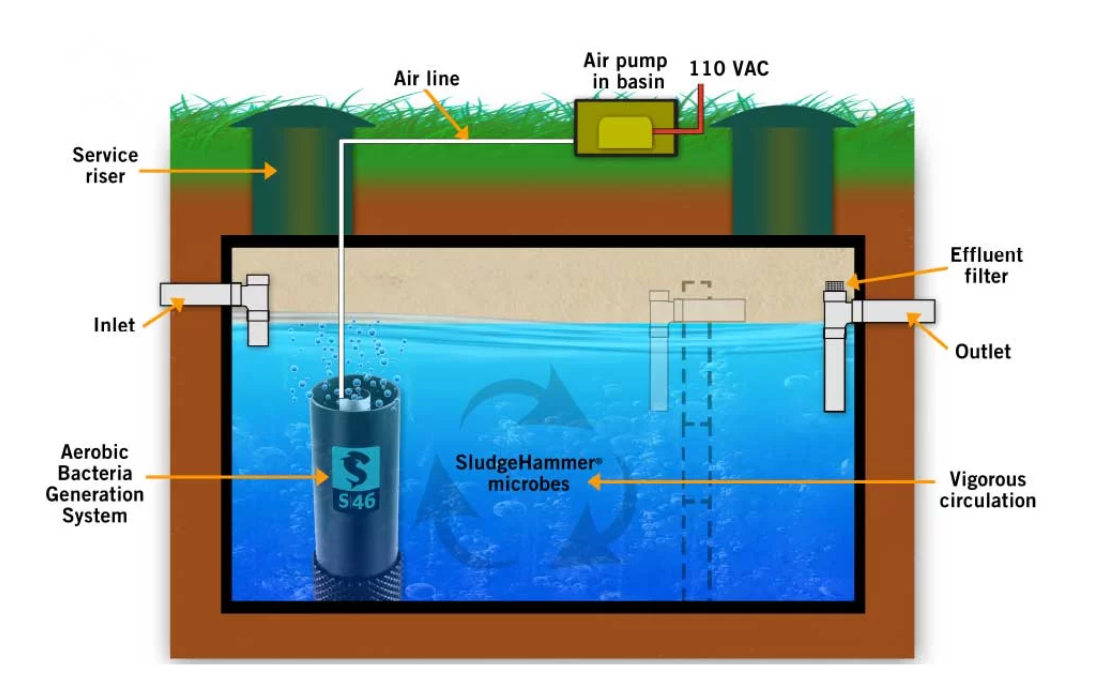 Benefits of a SludgeHammer System

Over the last decade, the patented SludgeHammer technology has revolutionized wastewater treatment by providing a highly effective, all natural, non-toxic solution to the challenges of failed existing septic systems and the design and development of new systems in unique environments. The SludgeHammer ABG is the most cost effective on-site pre-treatment system on the market.
Repairs failed septic fields
No field replacement necessary
Eliminates Odors
No moving parts
Low maintenance/low cost
Fits into any tank and system
No landscape destruction
Environmentally safe
Effluent can be used for landscape irrigation
Uses the same energy as a 60 watt light bulb
A New Solution to an Old Problem
Wherever you find people and water, you'll find wastewater. And where you find wastewater, you'll find the headaches that go along with maintaining septic systems. The EPA estimates that 95% of all septic system failures are caused by clogging from colonies of bacteria that journey to the disposal field producing soil-clogging slime called biomat. Eliminate this biomat and you extend the life of your system and drastically reduce the need for septic tank pumping or budget-busting septic field replacement—the problem conventional septic systems cause.
The SludgeHammer Difference—Naturally
Enter the SludgeHammer, a patented Aerobic Bacterial Generator that stimulates the growth of a specialized and helpful bacteria right in your septic tank. Once the SludgeHammer is installed, the SludgeHammer Blend of micro-organisms immediately begin digesting wastes. The aggressive bacteria migrate into the septic field where they consume the biomat that clogs the soil. The digestion is so complete that the need for pumping your septic system is virtually eliminated.
Call us at 616-866-5134 today for a free site survey if you are experiencing any of the following symptoms of a failing septic system:
Septic Odor  •  Failed Septic Fields •  Standing Water •
Slow Toilets •  Frequent pumpouts •  Soft Spots in Your Lawn
When it comes to sewer line repair, proper installation and maintenance is a must. Kellermeier Plumbing is the right choice for all your sewer line repair, replacement, installation and maintenance needs. We offer sewer line repair you can trust, done efficiently and effectively. We can install, maintain and repair lines for new and existing homes and light commercial buildings.
We will be happy to help you when in need of any of the following services:
Sewer Line Inspection, Maintenance & Repair Services
Sewer Line Installation & Replacement
Sewage Pump Installation, Repair, & Maintenance
Sump Pump Installation, Repair, & Maintenance